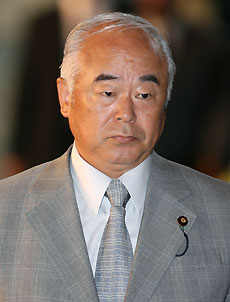 On Aug. 6, 1945, the U.S. dropped a bomb nicknamed "Little Boy" on Hiroshima, killing at least 140,000 people in the world's first atomic bomb attack. Three days later it dropped another atomic bomb, "Fat Man," on Nagasaki where about 74,000 are estimated to have been killed.
But Defence Minister Fumio Kyuma said...
"I understand that the bombing ended the war, and I think that it couldn't be helped," and he said he did not resent the U.S. because the bombs prevented the Soviet Union from entering the war with Japan, according to Kyodo News agency.
In other words, the defence minister is saying, its alright for the US to bomb the two cities, afterall Japan would lose the war one way or another.
In yet another words, who cares about 140,000 + 74,000 lives that were killed as long as it prevented the Russian from attacking Japan.
In yet, yet another words, the Japanese ministers are chosen from one of the World's Best Academy of Mentally Retarded!